I really like stilleben photos i think it is beacause i made a lot of it as a commercial photographer. A few objects can tell a story or just be lookable.
Konstliv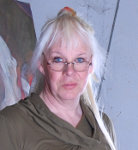 Efter konstskolan och måleriet började jag alltmer röra mig mot det digitala och virtuella. Många år där jag skapade i virtuella världar som Second life och Opensim. Internet och många, många web projekt. 
Jag började skapa på datorer innan det fanns PC Min första dator var en Lambda, sen kom Commodore 64 och Amiga. Konst projekt med programmering som bakgrun
d. Bild, ljud och software. Lite video men jag tyckte redan då att video kändes föråldrat.
Jag har fortsat att jobba med teknologin som en bas för olika projekt. Ett sökande för att finna den digitala konstens möjligheter.
Jag startade som fotograf för 35 år sedan för att gå vidare med mediautbildning och så småningom konstskola. Många år bakom datorer och massor med editiering av bilder.
I dag gör jag fortfarande kreativt arbete och trivs bra med det. Massor med digital och grafisk design, illustrationer och foto.
Jag skriver en del program till virtuella världar och spel och kör mina egna linux servrar. Jag experimenterar också med alternativa världar med min Oculus rift. Och är både en virtuell pilot och kontroller på IVAO och Vatsim nätverken för Flight simulator.
Välkommen till mina sidor.
2worlds2go.com feed
2worlds2go website about virtual worlds, VR and creating AI.
New studio new pictures

I have a new studio in Second life so i can make some new pictures. And a small gallery downstairs. Great.

Really need some more training.

Been a long time since i had my virtual camera out. And it shows.

But it is just to work on it. Have to get better to do a new exhibition.

Need some new props to. Terrible hair.

Driving ETS2 thru the suburbs.

It is not always glamourous but someone have to do it. Trucking in snow and somewhat alone. Not many to honk at in multiplayer.

But fun.
Breadcrumbs
Du är här:
Home
Digital projekt
website info
e-books