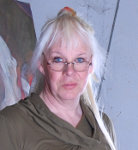 Efter konstskolan och måleriet började jag alltmer röra mig mot det digitala och virtuella. Många år där jag skapade i virtuella världar som Second life och Opensim. Internet och många, många web projekt.
Jag började skapa på datorer innan det fanns PC Min första dator var en Lambda, sen kom Commodore 64 och Amiga. Konst projekt med programmering som bakgrun
d. Bild, ljud och software. Lite video men jag tyckte redan då att video kändes föråldrat.
Jag har fortsat att jobba med teknologin som en bas för olika projekt. Ett sökande för att finna den digitala konstens möjligheter.
Jag startade som fotograf för 35 år sedan för att gå vidare med mediautbildning och så småningom konstskola. Många år bakom datorer och massor med editiering av bilder.
I dag gör jag fortfarande kreativt arbete och trivs bra med det. Massor med digital och grafisk design, illustrationer och foto.
Jag skriver en del program till virtuella världar och spel och kör mina egna linux servrar. Jag experimenterar också med alternativa världar med min Oculus rift. Och är både en virtuell pilot och kontroller på IVAO och Vatsim nätverken för Flight simulator.
Välkommen till mina sidor.
Den här gjorde jag efter några år i Second life. Alla fantastiska miljöer behövde visas för dem som inte har varit i SL. Mycket speciellt ställe.
En liten e book om fotografi och stilleben. Mest bilder och på engelska.
Jag fick för mig att tejpa på en digital kamera på mitt teleskop. Resultatet är här. på Engelska.
2worlds2go creates content for web, games and virtual worlds. 2worlds2go today is a virtual and networked organization looking for cooperative partners in art and technology. We also do research in to new technology's that can be used to enhance the presence in virtual worlds. Today we develop for the Oculus rift and use Unity 5 and several other game developing tools to create the virtual web of tomorrow.

We look in to virtual community's. There we found several flying networks and started to develop new hardware and software to interface with computer systems using the Arduino. The simulator is such a project with hope that the hardware research will create spin off effects in to art and the internet of things. Today several project are using Opensim and Second life as platforms for our research and design, making 2worlds2go a matrix structure working over servers and networks all over the world.